Get to know what matters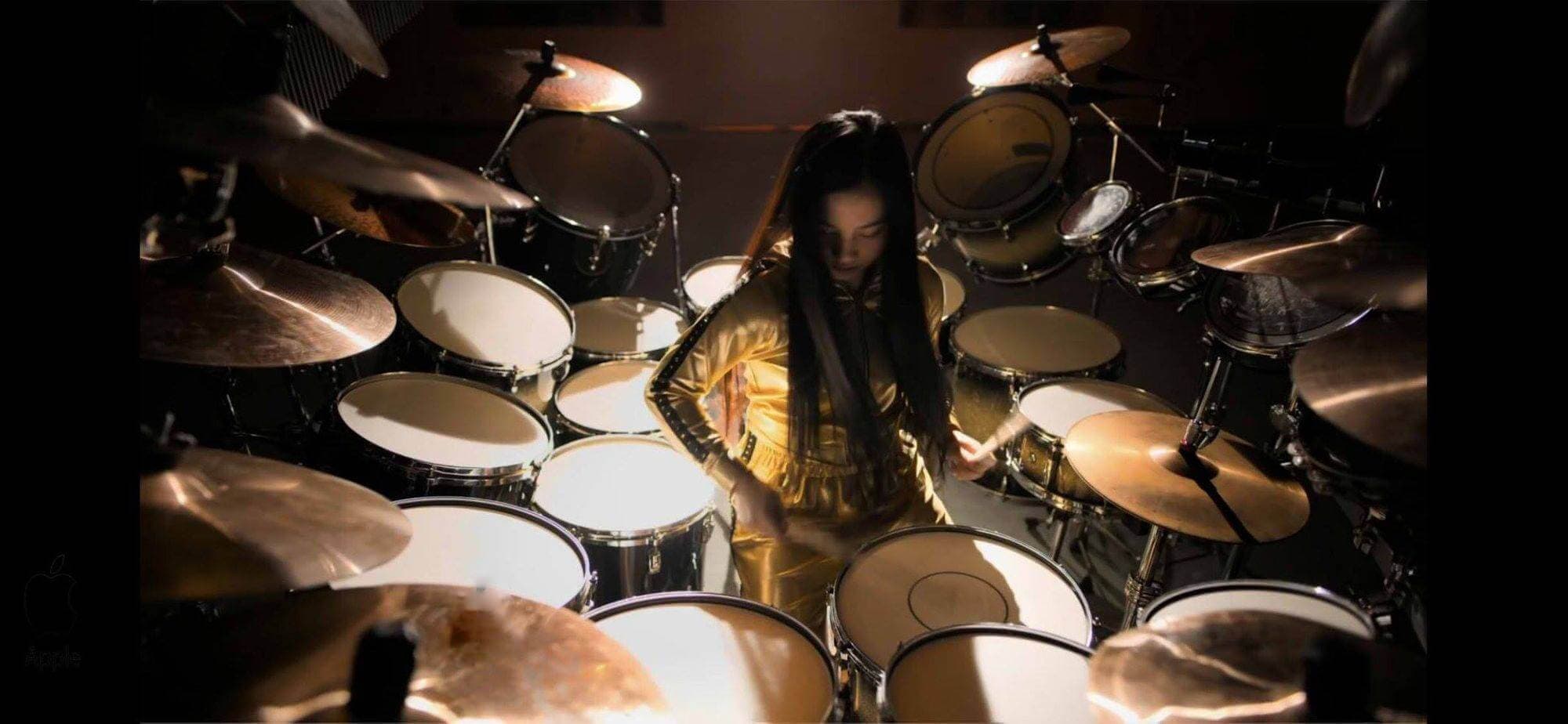 How is success defined in the eyes of a very hardworking musician whose dreams are as extensive as her music taste. She knows well how to hit like a girl, plays on famous drums, and numerous brilliant experiences, which all is the result of being serious in something.
---
What does it take to be a successful musician? And what's considered success in music?
Being successful in anything takes effort, dedication, perseverance, and hard work. For me, I believe that success is true happiness. I feel that what's considered being successful in music, or life in general, is being able to look at yourself and feeling proud of where you are, what you've done, and who you are. Alongside that, I also believe that musicians and creators alike, strive to touch people's hearts through creating songs, energetic performances that lift spirits, or just connecting people of all ages, genders, and cultures. That's considered success as a musician.
What are your dreams in your musical career?
I've always dreamed of touring around the world and exploring everything about music. I want to continue writing songs for as long as I live, to create albums of all styles, to perform everywhere I can, and to meet or connect with as many people as possible. Most importantly, I dream of inspiring people to follow their dreams/ passions, or to be the reason why someone can get through a difficult day, to feel joyful, or to feel like they're not alone.
Do you have a daily regimen in music learning?
I do! In the morning, I always practice paradiddles, singles, and doubles on pillows as it helps me loosen my wrists. I also dedicate thirty minutes of drumming free-style to whatever is on the radio. Afterwards I like to explore drum videos on YouTube to check out what I should try out next. Some days, I practice metal. Other days, I practice funk. The same goes for songwriting, I like to study the contents of songs that I love listening to, and try to understand how I can create a piece that accurately conveys the message or feeling that I'm trying to give. Most of the time, what I practice depends on my mood!
What's your typical professional day like?
Very early mornings and very long nights. I'm a night owl, but I also work a lot during the day. I barely sleep, though that's pretty common for musicians. For many of the shows I've played, I'd usually be given a thirty to fifty minute set-list the night before and I would memorize the structure of the songs first. On the day of, I would usually test myself on how well I know the songs by practicing the whole song without the actual music - just drumsticks, pillows, and saying to myself, "second verse, now it's the hook!" As a recording artist, I usually take a week to write a song, another to refine it, and then another to get its recording ready. I usually travel to LA to record, to do photoshoots, or to do events and shows, but I do most of my songwriting and lone practices back in Vegas. Lots of traveling and lots of hotel days!
How has your music taste changed over the years?
My roots mostly stem from classic rock and heavy metal! Since 7 years old, I grew up playing classic rock, alternative/ progressive, and heavy metal. My favorites were always Led Zeppelin, Rush, Black Sabbath, Deep Purple, KISS, Motley Crue, and Avenged Sevenfold. I also loved the Eagles, Queen, and the Police. In my tweens, I got into Meshuggah and Babymetal! I listen to a lot of other genres too. I loved Lady Gaga and Paramore when I was younger, I was also really into J-pop/ Kpop and classical music. As I entered my early teens, I got into blues, jazz, rap, and hip hop. I love watching artists with showmanship and strong performances as well. My music taste is definitely a hybrid of everything. I love all types of music!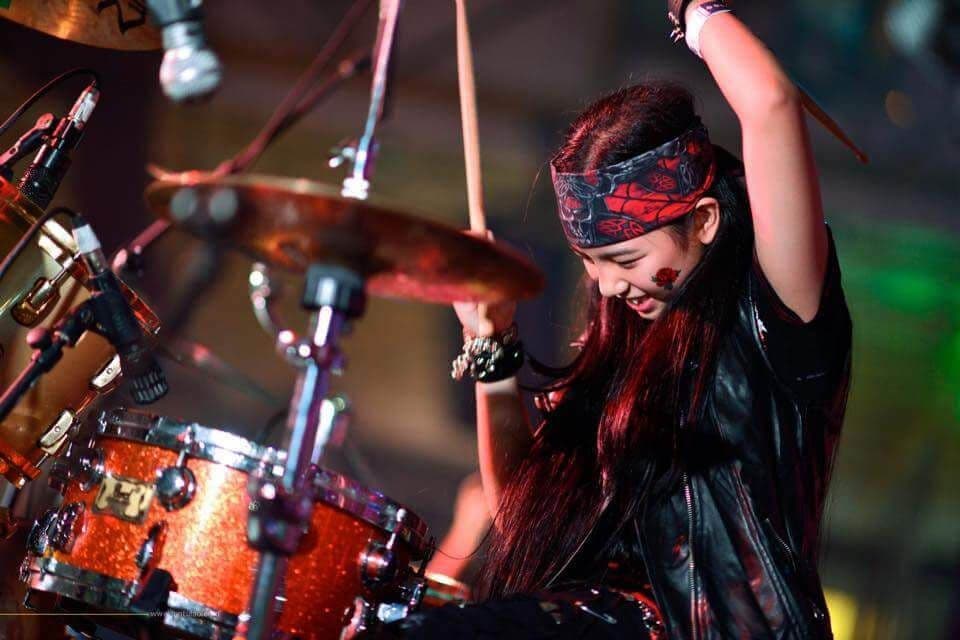 "Music can evoke a variety of emotions and can influence certain actions, it is a powerful tool that can bring social change to our world."
What are the impacts of Covid-19 outbreak on your music life?
The Covid-19 outbreak is unfortunate, and I'm sending my love to all healthcare workers/ everyone who has been affected. A challenge that we musicians and artists face during this pandemic is the fact that touring and live performances have been put on hold, which is difficult as our type of careers rely significantly on social events, in-person entertainment, and on live-networking events. Although we have the ability of utilizing social media - it doesn't exactly compare to the whole experience of performing live shows. However, this sort of limbo can also serve as great alone time for all of us to create music and to refine our crafts. Sometimes when we're always busy working, we don't necessarily have the chance or time to just sit back and rewind; to go back to the roots of our skills and relearn it. With this much time in our hands, it's best we use it wisely and to make something out of it.
How long have you been involved with music?
From a young age, music has always played a huge part of my life. Growing up, my parents had the radio on every day, which played a variety of music. On TV, they would put on live concert DVDs (Woodstock, Live Aid, etc.) Although we weren't a musical family, meaning none of us had played any instruments, we were music fanatics. I wanted to become a drummer when I was five years old but when I first told my parents, my father didn't approve. They believed that the drums were too loud and so they tried to persuade me to play piano or violin instead. I remember being told, both before drumming and even when I was already established as a drummer, that a girl can't play drums. However, I never gave in and ended up convincing them to get me a drum set two years later! I began playing drums when I was seven years old, only when I promised them that I would join our local drum competition. After learning how to play drums for six months, I joined the competition and won. Afterwards, when I was eight years old, I performed with Patti LaBelle and Stevie Wonder; then I later branched off to playing for and touring with more than fifty bands around the States and in the Philippines. At the age of ten, I competed and was crowned the very first under eighteen champion of the international female drummer competition Hit Like A Girl. Some of my biggest experiences include playing upside down on Tommy Lee's rollercoaster drum set during the Motley Crue and KISS soundcheck when I was nine, being featured as a drummer in GAP Kids' girl empowerment campaign, sharing the stage with Arnel Pineda of Journey, performing at the halftime show of the LA Clippers and Golden State Warriors 2018 game at the Staples Center, performing on several news channels including the TODAY Show, playing at the U.S. Tennis open 2017, and performing at the Bonzo Bash 2018. I was also given the opportunity to feature as a drummer in commercials for Apple's iPhone XS, Disney's Dream Big Princess, Nickelodeon's "That's Me" campaign 2018, Chobani Yogurt, and many more. I've taken music seriously since the start and I know that it's truly what I want to do for the rest of my life.
Do you play for any bands? Who? Did you join/form them?
I used to play for a multitude of bands and artists - ranging from classic rock, pop, heavy metal, blues, jazz, alternative, to even Japanese rock. Right now, I am currently a solo recording artist under InRage Entertainment as a drummer, rapper, and songwriter.
Have you composed any songs/albums?
Yes! I'm currently working on a solo album right now, but I just released my debut single "Coworkers" under InRage Entertainment, which was written by me and produced by Grammy-nominated Sony Producer Bruce "Automatic." Shoutout to Mr. Auto and Ms. Ebony, too! It's a pop/ rap song, I also have a performance version where I drum and rap at the same time. I wrote it with the idea that I grew up as a young entertainer and with that, I didn't go to school. Instead of classmates or friends, I had coworkers; except the song expresses it in a more ironic, humorous way. I will say that "Coworkers" is just a teaser song and that all my new releases will be… crazy. "Coworkers" is a fun song, probably one of the only light-hearted ones I have in comparison to the songs I will soon release, but it was perfect for me to step out of my drummer persona and into my new artist image. Now that I've truly embraced myself as an artist now, my music will surely shock again. It's only the start of my music journey where I get to truly let my creative abilities shine.
How do you get inspired to make music?
I can get inspiration when I'm alone and isolated in my room. When the only thing I have is my past experiences and my imagination, I use those two as my main tools to write. Other times, inspiration hits when one least expects it; so when I come to a writer's block, I don't force it. I take breaks by painting, drawing, reading comics, and watching films that evoke heavy emotion, as it helps me think of what I want my next song to make people feel. Before I know it, inspiration just hits like that.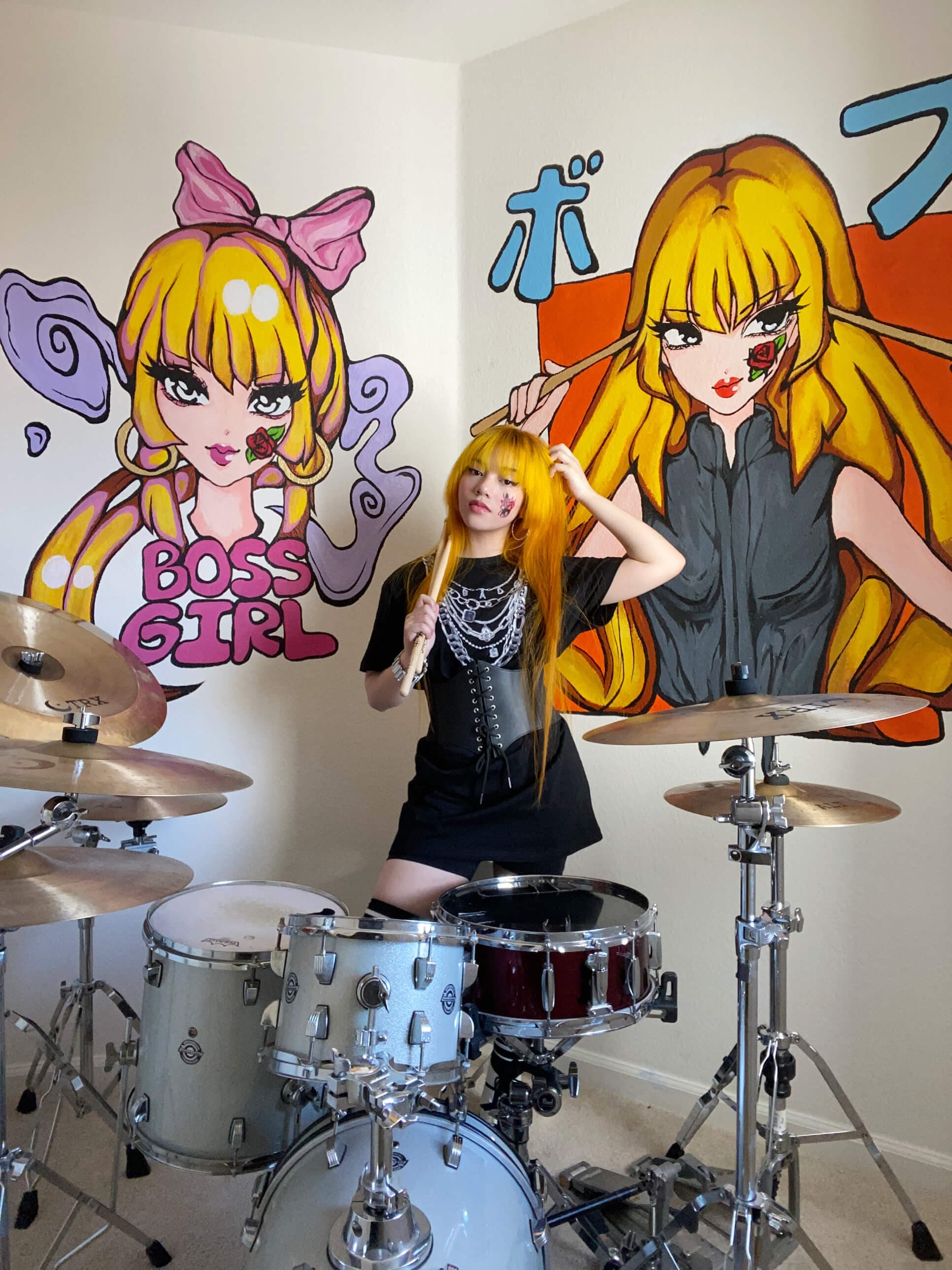 "I believe that success is true happiness. I feel that what's considered being successful in music, or life in general, is being able to look at yourself and feeling proud of where you are, what you've done, and who you are."
How do you see your audience? What do you want to tell them and what do you expect from them?
I am forever thankful for my supporters who have followed me throughout my whole music and art journey, for those who have joined me recently, and those who will join me on my journey in the future. I treasure every single one of them, and I strive to continue improving as a musician, as an artist, as a person, and to give back to those who've helped me become who I am today. What I'd ask of my audience is to always give love to themselves, to everyone around them, to make the most out of everything, and to value their dreams or passions. If any, I want my story and journey to serve as encouragement to those who want to follow their passion but are hesitant in pursuing it. It doesn't matter what your age is, where you're from, what your culture is, what your skill-set may be; everyone is capable of doing anything. Do what makes you happy.
Where do you think rock n' roll is today and where is it going?
I think music is always evolving into something new each and every decade, but our roots will always remain. Even if a new genre or a different style takes the forefront of music these days, music takes influence from one another. Rock n' roll is a fundamental part of music and I feel that its energy, its style, its type of performance, and what's made it special, will never be forgotten because everyone who's grown up with its influence will always take a part of it wherever they go. Just like in my case, although I am exploring different genres and ideas in music - I love rock n' roll and without realizing it, I carry its elements with me through performances, through writing, and even through fashion.
What are some of the challenges as a musician, especially a female musician?
As a female musician, and a young one at that, I have faced discrimination towards my gender, my age, even my ethnicity, and have been doubted for things I cannot control. Due to that, I've had many insecurities as a musician and as a person, but I've come to learn that none of those things really define me. Traditionally, music was considered a male-dominated industry and career, but there is a growing community of female musicians and artists which is really cool. We're all equal and in the end, musicians - regardless of gender, age, or ethnicity, just want to play music or create it; so they always support each other! Another challenge that all musicians, creators, and artists have faced, is the initial fear of choosing music, or anything of the creative field, as a career. I encourage that no matter what, nothing's more important than to follow your passion. There are a lot of obstacles in choosing music as a career, but as does everything. These challenges, despite how difficult they may be, are things that help us learn and grow. If you want to be a musician, then be one. Everyone will face doubt from themselves and from others at some point, but if your heart is being called to music - follow it.
When and where were you born and raised?
I am a Filipina born in Singapore, and moved to the states when I was a year old. My family moved a lot when I was younger, but I went to elementary school in Las Vegas and ended up moving to California when I was ten. I'm currently based from both Vegas and L.A.
What are some of your hobbies (obviously apart from music)?
I am a graphic artist and painter! When I became homeschooled at ten - besides practicing drums, I spent my leisure time drawing manga/ anime (Japanese Animation) and continued since. I began oil painting when I was thirteen, mostly doing portraits and original bag paintings. Eventually I branched off to doing digital comics, animation, and graphic design. I draw all of my merchandise and my single art covers; and in my latest music video which I filmed and edited myself - I painted all the murals for the sets and backgrounds.
"What I'd ask of my audience is to always give love to themselves, to everyone around them, to make the most out of everything, and to value their dreams or passions."
How can music change the world?
Music can heal, reconcile, break down barriers, and educate. Music is an important part of our lives, of our culture, and of society - it's a language of emotion and feelings that can connect a range of people together.Music can evoke a variety of emotions and can influence certain actions, it is a powerful tool that can bring social change to our world.
What bands or solo musicians have you been listening to this year?
Eminem! He's my favorite rapper and his songs have a lot of diversity (he also has a lot of rock-influence type songs). As for bands, I'm always listening to Meshuggah, Periphery, Paramore, Led Zeppelin, Avenged Sevenfold, and Black Sabbath.