Almost Famous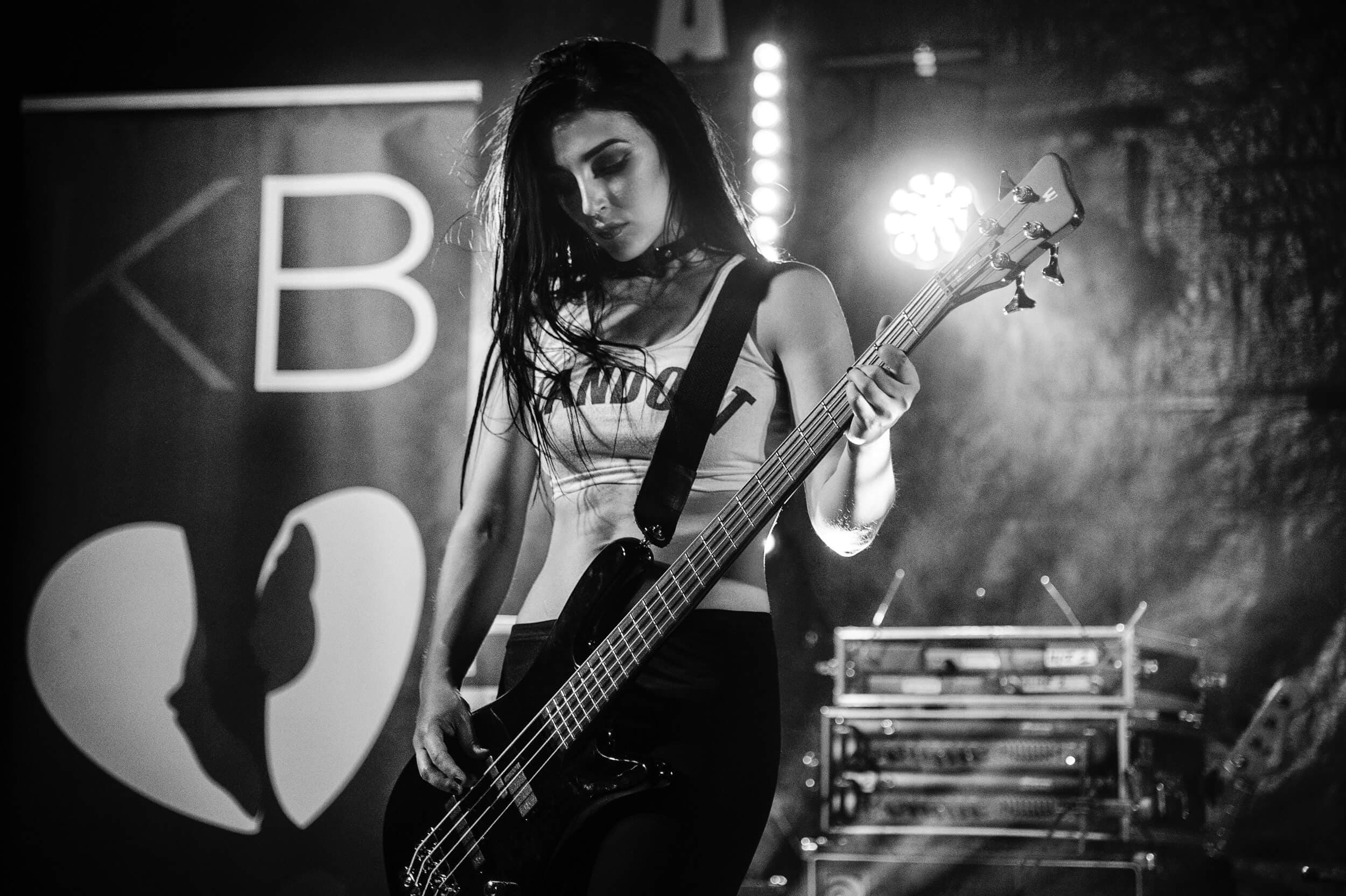 Let's travel through the world of an open-eared bassist whose music is her cherished career. Alice defines music as the medicine for the body and the remedy for the soul. Let's get familiar with her surrounding darkened by the sexist slurs where she is the one who reaches the lantern
---
What does it take to be a successful musician? And what's considered success in music?
From my personal point of view, a successful musician is the one who lives solely on their art. For me success in music is the moment when your life and your passion go hand in hand. Obviously, it's not easy in the world we live in today. Nowadays a musician must no longer think only about playing, but must be a good communicator, must know how to capture attention, must be able to produce social contents. The image of the artist has changed a lot compared, for example, to the typical rock star of the 80s.
What are your dreams in your musical career?
My dreams related to my career as a musician are: To be able to make this passion my main job and to produce songs after songs so that I can be 100% proud of my music. And, obviously, one of my biggest dreams is to go on tours with my band as often as possible!
Do you have a daily regimen in music learning?
I usually play almost every day, I started playing bass about 14 years ago when I was attending private lessons. Right now what I'd like to do is push myself beyond the limit, so practicing on what I think I'm still not able to do or to do properly. In my personal experience this is what makes me feel better and it's the formula I usually adopt. It's really satisfying when after many hours or days of practicing I can finally play that part!
What's your typical professional day like?
Since September 2020, I've joined a basses and guitars company called Tribe Guitars. I'm endorsed by this brand, and I also work in their shop and work remotely as a marketing officer. I'm very happy with this because I love working in contact with my main passion : BASS! So usually I spend 3-4 days per week creating contents, mainly play-through videoclips, using Tribe basses.
How has your music taste changed over the years?
I started listening to rock and metal music when I was very very young. My mom has always been a Metallica and Mötley Crüe fan, so I would listen to them too since I was born. My very first love in music was Red Hot Chili Peppers. I still love them, but they were only the beginning of a big discovery of music genres. I've had many "phases": The glam rock one, the folk metal one, the black metal one. The truth is I like many music genres and I think it's important for a musician to have an open mind (it's good for composing also). Let's say I can always find good stuff in every music genre.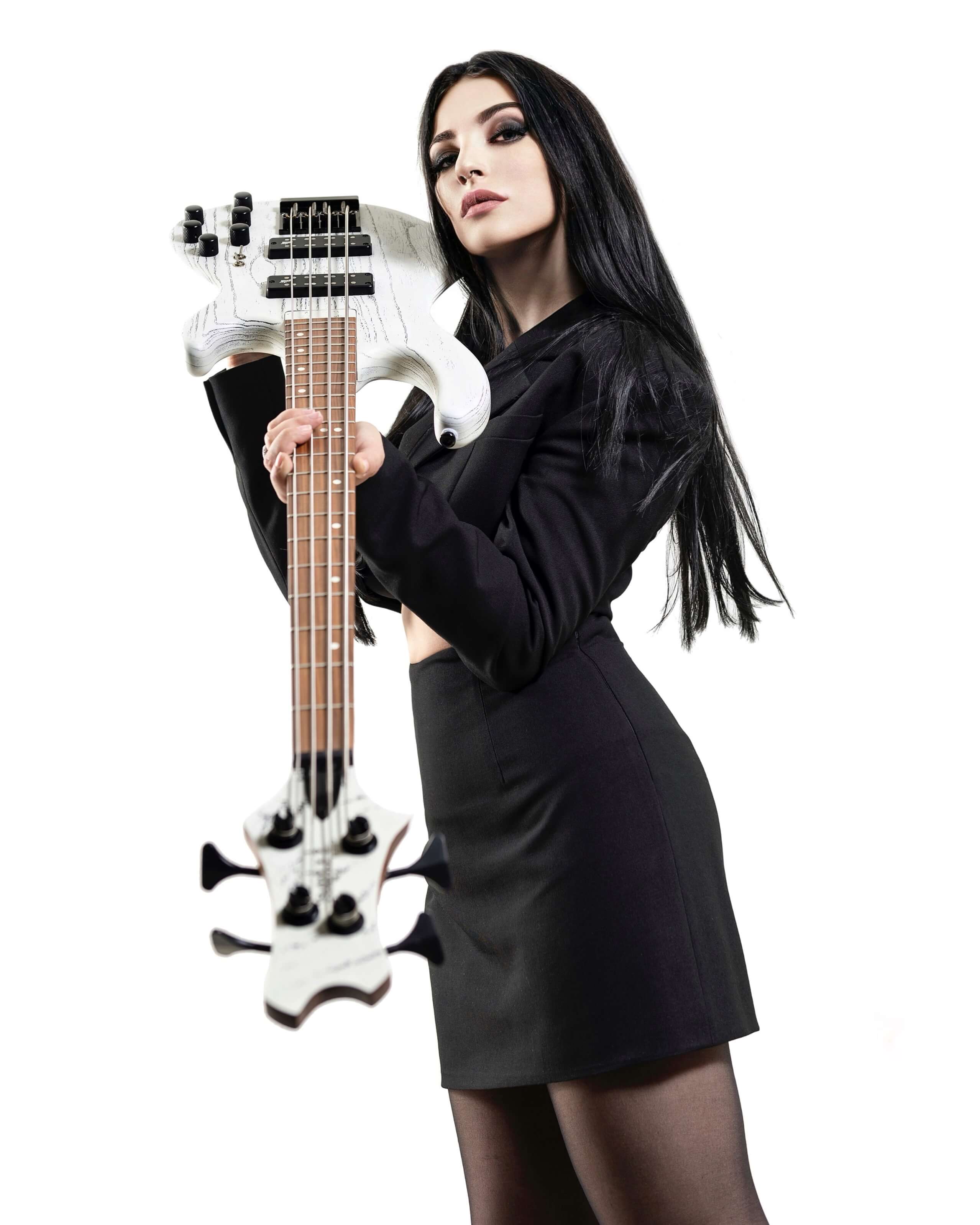 "Nowadays a musician must no longer think only about playing, but must be a good communicator"
How long have you been involved with music?
Let's say it all began when I was about 12-13 years old; thanks to a music teacher I met at school. I'll always thank him for telling me and my classmates to try and choose an instrument we really felt connected to. Usually in Italian schools, the choice is between flute or keyboard, but with him we had the chance to learn to play our favorite music instrument and in my case it was of course the bass guitar! After school I kept on playing bass, attending private lessons, and at the age of 19 I joined my very first band.
Do you play for any bands? Who? Did you join/form them?
Yes, I play in two bands. Killin' Baudelaire, we're an all-female band and we play alternative metal. The band was born in 2015, but I joined the band later in February 2017 (after a line-up change). My other project, in which I'm a former member is called Iconist. We're 5 musicians and I'm the only woman in the band. At the moment, we still haven't released anything as we're about to sign with a label, but our first album is ready and we are planning to publish it in the beginning of 2021.
Have you composed any songs/albums?
Yes, I've composed an album entitled "Nightmare Inc.", with my very first band, Bid Zogo, it was around 2011.In later years I composed some tracks included in the following albums: Killin' Baudelaire's "Vertical Horizon" and Iconist's "Iconist" (out in 2021).
Tell us about your favorite musicians/bands.
I like many many bands, but if I were to say my favorite, I would always give the same answer: Hatebreed! I love this band with all my heart for many reasons: They're sometimes like a medicine to me when I feel down and sad, because most of their lyrics are full of motivating words and thoughts. I've seen them live so many times and always been in the first row, even if risking my life (laughter), because they're pure energy. I love to sing all the songs with them and not think about anything else. And last but not least, I can say I know some of them personally and they're the best. So that's why they'll always be special to me.
How do you get inspired to make music?
I think inspiration comes and goes; it's not something I'm able to control. Sometimes I have amazing ideas, especially when I'm trying to sleep! But when I sit down and try to get inspiration, because I really want and have time to compose new music, then it can be a total failure. So in my personal experience, it's about catching the right moment and writing down or recording the idea.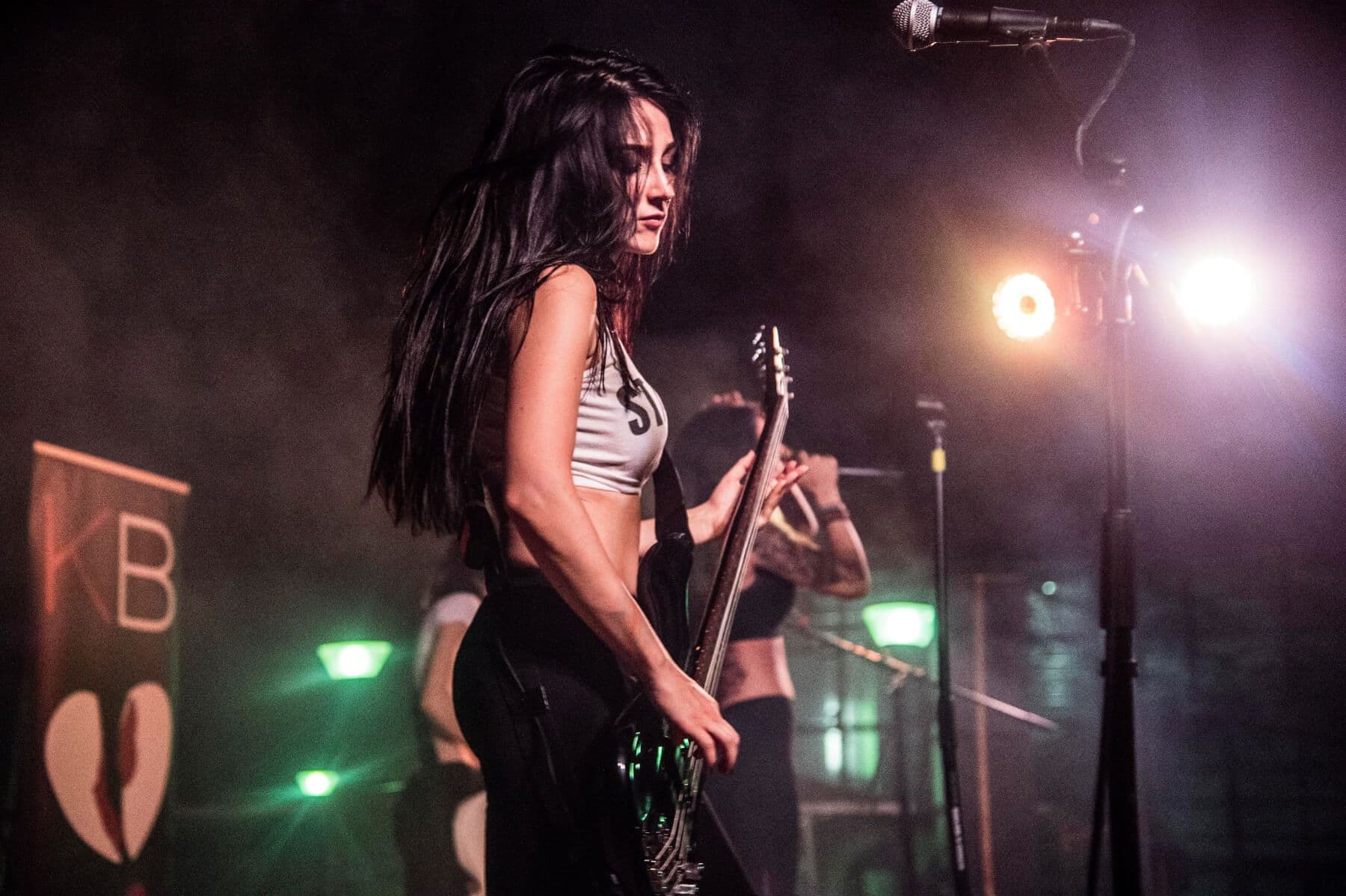 "It's about catching the right moment and writing down or recording the idea"
How do you see your audience? What do you want to tell them and what do you expect from them?
I'm very happy about my audience, they're all very lovely and supportive. It hasn't always been like that in the past, because years ago I was living my life in a different way. I had negative people around me, a job I didn't like and many other private issues, so I'm pretty sure my approach and my contents were reflecting my emotional status. But right now, after fixing all those problems, I think my audience appreciates the way I am. I'm a positive soul and I like to be kind with people and I also like joking. I expect them to be in my shows when we hit their country, so that we'll finally meet in person :)
Where do you think rock n' roll is today and where is it going?
Rock'n'roll! Where are you today? The year 2020 is certainly one of the worst years for the music industry. But I see "rock'n'roll" in bands like AC/DC releasing a new album, I see "rock'n'roll" in musicians that are forced to play just in their homes; but they're not losing their attitude and still rocking, maybe combining their music with musicians from the opposite side of the world. So, I think rock'n'roll is mostly a state of mind and I'm pretty sure it's saving many people's mental health in this tough historical period.
What are some of the challenges as a musician, especially a female musician
One of the biggest challenges is to bring my music to the next level; from an emerging band to a professional level band. As a female musician I can say I've had some bad experiences, especially coming from the country I live - Italy. As an all-female band we have been physically judged, we've received many sexist and body-shaming comments under some Italian webzines posts. I think that is just a matter of culture and lack of education and I'm sorry to say it's happening in the country where I live. I won't hide it as it's never pleasant, but on the other side I can say we also have very supportive fans in our country and outside. So this is what really matters.
When and where were you born and raised?
I was born on February 27th 1989 and raised in a small town close to Milan, Italy.
Aside from music, what studies and jobs do you have or have had in the past?
I've studied foreign languages (English, German and French) and I've worked in commercial offices for several years for big fashion brands such as Prada, Tom Ford and Calvin Klein. Right now I'm working as the Chief Marketing Officer for Tribe Guitars.
"I think rock'n'roll is mostly a state of mind and I'm pretty sure it's saving many people's mental health in this tough historical period"
What are some of your hobbies (obviously apart from music)?
I really love drawing, cooking and of course traveling. I've often traveled alone to Asia. It's something I really miss and I hope to do it again soon.
How did you discover your musical talent and passion?
Probably when I joined my very first band, Bid Zogo. I was around 18 years old and I was playing Nu Metal with some men in their 30s, and when the audience started writing to me or telling me that my sound was very BIG, I started thinking that probably I was doing it right!
Does it sound scary to choose music as a career?
Yes, unfortunately. Here in Italy, it's very very difficult or quite impossible to live just with your music, especially if you play Metal. Metal music is not synonymous with a lot of money here, and almost all of the musicians I know have a secondary job to pay their bills. It's still something that has to be taken in consideration, but I don't know if that will ever happen. I'm considering myself very lucky to have started a job into music, but again, not in Italy… in Switzerland.
Is there a favorite music documentary that you would like to recommend?
I'd recommend a movie, more than a music documentary. It's called "Almost Famous". Since it's my favorite one and I always like to dream when I watch it. I really suggest it if you have not already watched it!
What bands or solo musicians have you been listening to this year? (Our readers would appreciate it to update their playlists.)
Hatebreed, Leprous, Bad Wolves and Jinjer