Shy Girl Rising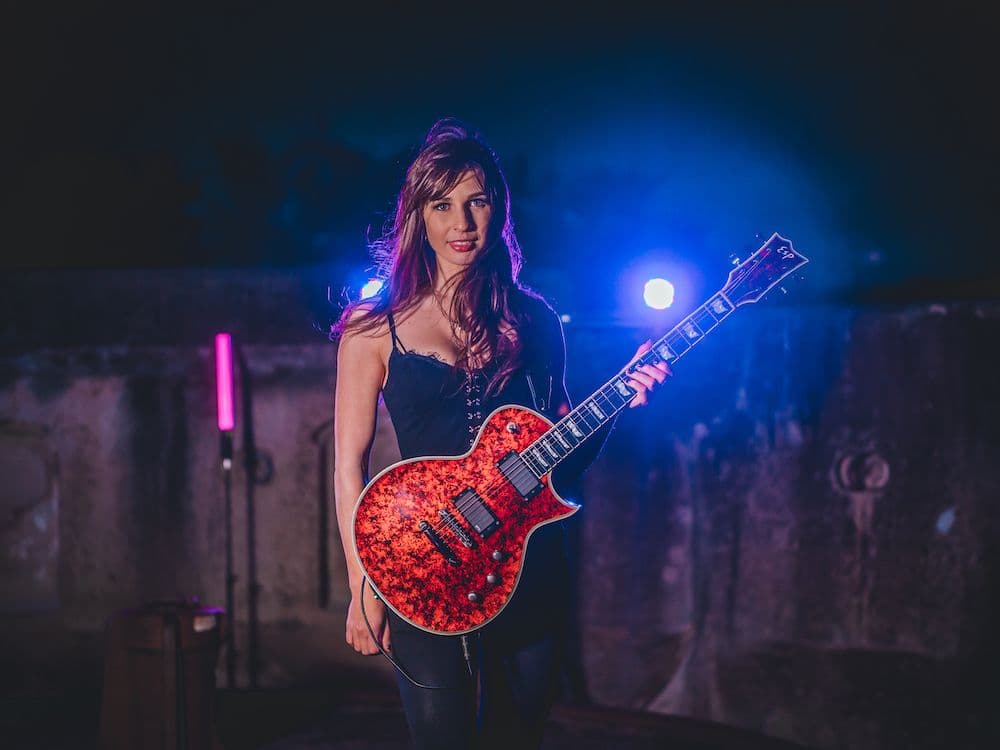 What's in music which befriends a young girl, accompanies her on a daily basis, and scares her off when it's not there. Andrea's unimaginable routine to her 13 year old version has made her see music as something which makes humans unique.
---
What makes a musician stand out from others?
Every musician or band I can think of has their own unique trait or musicality that sets them apart from others, even guitarists! Think of guitarists like Hendrix, Satriani, Van Halen – each player's solos are unique and recogniseable in their own way. This can be due to a combination of factors such a musical influence and playing style, to more technical elements such as pick attack and vibrato. Just like different singers have distinctive voices, guitarist's too have distinctive 'voices' in the way they play.
What are your dreams in your musical career?
From a very young age, I've always dreamed of being a performer, but after I picked up the guitar all I ever dreamt about was becoming a rockstar! While I was in high school it was my dream to play in a rock band. I joined my first real band after high school and now I gig almost every weekend - 13 year old me wouldn't be able to believe it!! Over the years my dreams have evolved alongside my goals, and it's now my dream to release my own original music and become an international aerial guitarist!
What would your top 3 tips be to succeed as a musician?
Three things that have helped me along my musical journey: 1. Prioritise – make time for music every day. For me that includes daily practice but more recently also songwriting and recording sessions. 2. Manage your practice/rehearsal time efficiently – know what you need to focus on each practice session and set goals. 3. Be critical of your playing and seek constructive criticism. I record all my practice sessions and listen back and have found that my playing has improved dramatically!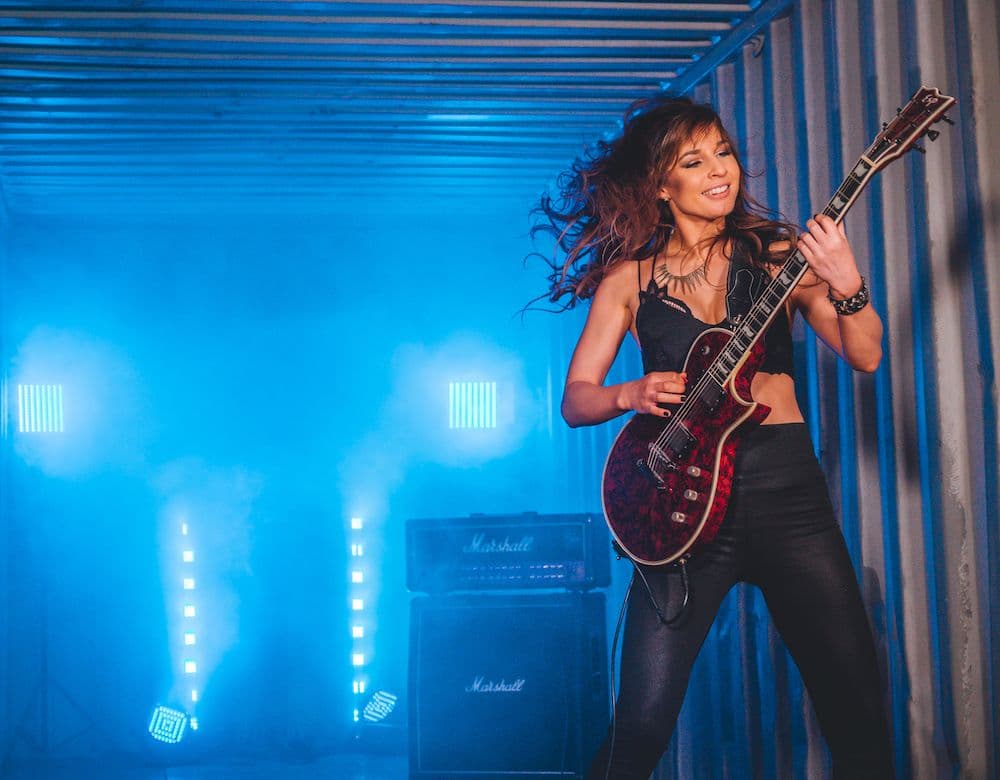 "We need to give people a reason to spend their money on concert tickets, provide them with a real experience, make the audience feel something or get them inspired!"
Do you have a daily regimen in music learning?
My daily practice includes a mix of scales and exercises, improvisation and practicing and learning songs. If there's a difficult section or part in a song that I want to work on, I'll usually turn it into an exercise and practice it on. I practice a lot with a metronome, and like I mentioned before I also record myself during practice and listen back so I can self-critique!
What's art and music and why should it matter?
Art and music are disciplines that set humans apart from other species. There is evidence that drawing and music/dance have been important in human culture for thousands and thousands of years all across the world! Art and music bring people together, evoke emotional responses and have also been used as forms of communication. I can't imagine a world without them!
How has your musical taste changed over the years?
My musical taste has definitely evolved alongside my playing! From playing power chords along to Green Day, ACDC, Nirvana, to learning lead from Metallica, Slash and Iron Maiden then and later refining and finessing my work listening to the likes of Joe Satriani, Steve Vai and John Petrucci, I've definitely found that I've grown as a player by expanding my musical taste!
How long have you been involved with music? 
I've been playing professionally for over 10 years, however I've been involved with music almost all my life! From pre-kinder dance classes, to piano lessons and then guitar - I can't remember a time in my life when I wasn't involved with music! I played in the primary school orchestra (clarinet), joined the choir in both primary school and high school, played in talent quests, performed at school assemblies, always picked music as an elective and always took every opportunity to perform.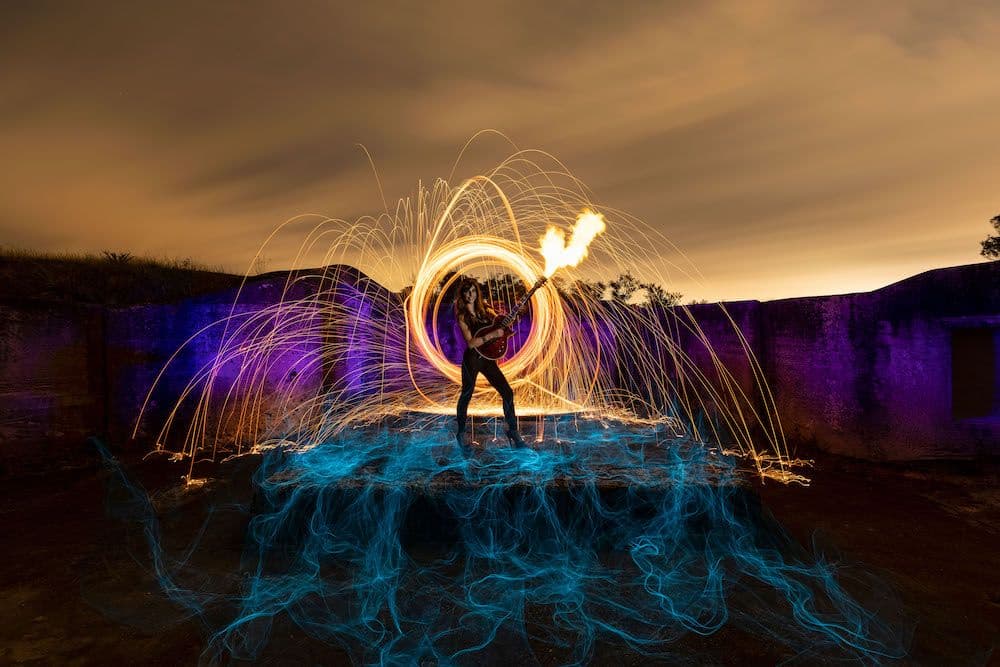 "Satriani was my first exposure to the instrumental guitar genre, and myself as a soloist who doesn't sing, I became heavily invested in this style of music!"
Do you play for any bands? Who? Did you join/form them?
I'm currently playing lead guitar for not just one but two all-girl bands based in Sydney. I auditioned for the Toxic Dolls, a rock covers band, as a very amateur guitarist. I found myself gigging almost every weekend which really developed my playing style and confidence on stage. Other bands and singers started asking me to session for them so over the years I've played for countless artists from all different genres. A few years ago I was approached to join Southbound (later renamed Southbound XO), an original country rock band.
Have you composed any songs/albums?
I've written and recorded guitar solos for two collaborations with international all-female metal project, Chaos Rising. They released a double-length album last year with one of the songs I played on! I'm also working on my own original music to release later this year.
Tell us about your favorite musicians/bands.
Some of my long-time favorite guitarists are Joe Satriani, Nita Strauss, John Petrucci and Synyster Gates. Each is quite unique in their playing/style and I've learnt a lot from listening to each of these artists (and they are still staples on my Go-To playlist). Satriani was my first exposure to the instrumental guitar genre, and myself as a soloist who doesn't sing, I became heavily invested in this style of music!
How do you get inspired to make music?
My passion for music and guitar is definitely what inspires me! Sometimes a solo is inspired by a simple melody or rhythmic idea, and other times they can be inspired by skills/techniques that I'm working on at the time. Sometimes inspiration can spark at the most random times, I often find myself thinking up melodies or riffs in the shower or while I'm driving!
How do you see your audience? What do you want to tell them and what do you expect from them?
I tell them often but I will say it again: thank you for all your support! To the people that come to the shows, buy the merchandise, stream the songs and engage on social media, your support does not go unnoticed.
What are some of the challenges as a musician, especially a female musician?
Confidence was a big one for me, and it's not just confidence playing or performing on stage! It's building up the confidence to comfortably talk to strangers, engage with fans and people in the industry, meet and jam with other musicians and the ability to network. I've had to really push myself out of my comfort zone but I'm glad I did as it's opened up so many incredible opportunities for me. I've come a long way from the shy girl that would spend hours locked up playing guitar in her bedroom!
What challenges does the music industry still face?
A big challenge for today's music industry is the accessibility of entertainment! These days we all have games, movies, TV shows etc. right at our fingertips and as a result people no longer have to spend much money or go out of their way to seek quality entertainment. However, this challenge can only push us to be better performers, musicians or entertainers. We need to give people a reason to spend their money on concert tickets, provide them with a real experience, make the audience feel something or get them inspired! We need to interact with the audience – both online and in person at shows so that they feel they are part of something.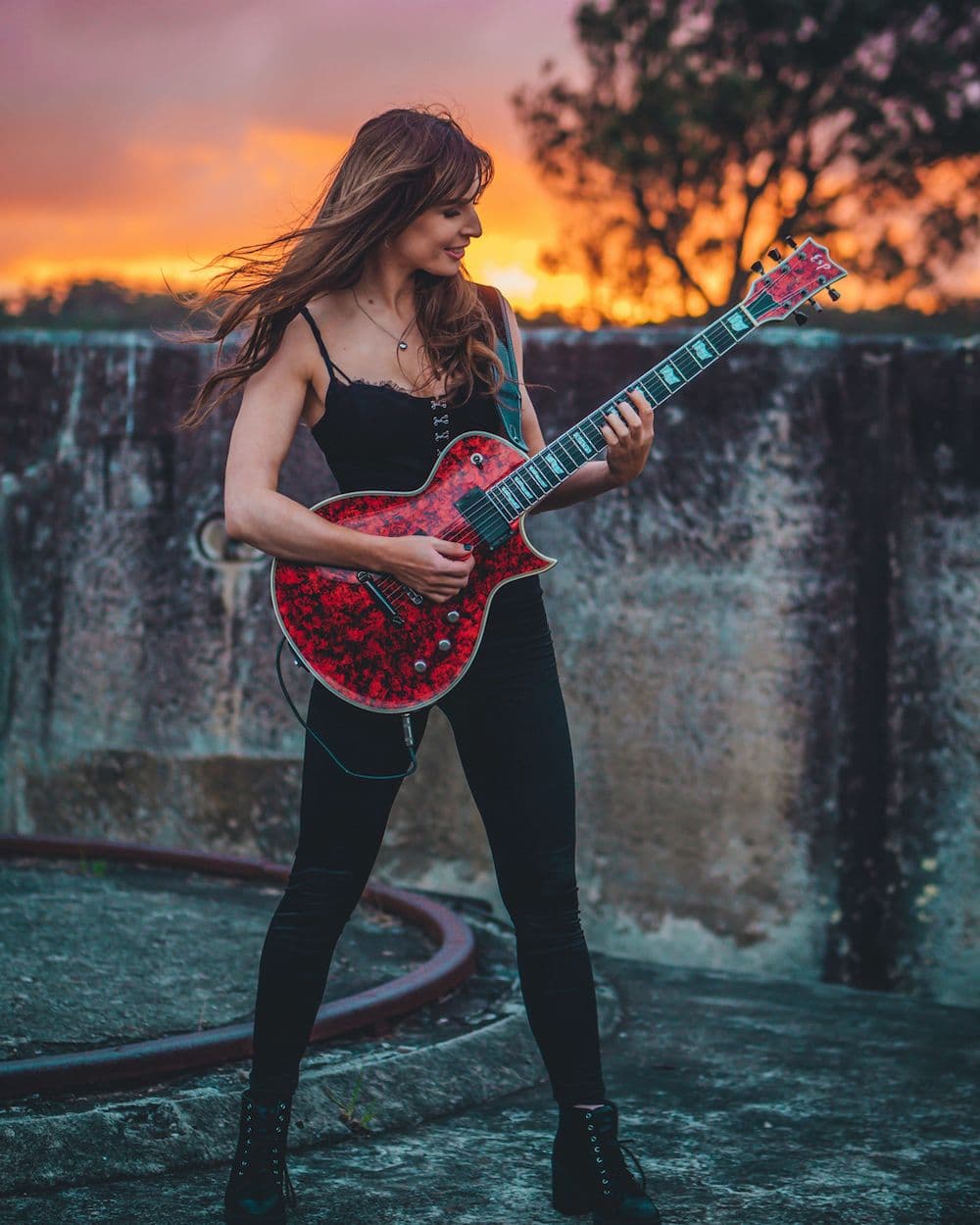 "From pre-kinder dance classes, to piano lessons and then guitar - I can't remember a time in my life when I wasn't involved with music!"
What do you think of pop music? Would you consider some of today's music in the rock charts as pop?
I have always been a big rock and metal fan myself, however pop and rock certainly do share characteristics like catchy melody lines, killer riffs/instrumental licks and similar chord progressions. There is also a rise in cross-over genres (eg. pop rock) as people from different backgrounds or styles are coming together to produce a tonne of great music! I'm sure some of the music in the rock charts have pop characteristics and vice versa with rock in the pop charts!
Do you ever receive sexist comments in your social media? If so, how do you treat them?
I mostly ignore any rude or unconstructive negative comments. As a performer, I recognise the importance of accepting constructive comments and criticism; however, some comments on social media are just nasty and I try not to respond.
When and where were you born and raised?
I am Slovakian, however I was born in Vienna (Austria) and migrated to Australia with my parents when I was young. I was raised in the south-western suburbs of Sydney!
Aside from music, what studies and jobs do you have or have had in the past?
I have a degree in Industrial Design and I also do graphic design. Growing up I was interested in art/drawing alongside music and I'm lucky that I get to be involved with both creative industries!
What are some of your hobbies (obviously apart from music)
?
I already mentioned art/drawing however I'm also really involved with aerial/circus arts (and am training to become an aerial guitarist!). I've trained for almost 10 years on a variety of aerial apparatuses, such as silks, corde and Spanish web. In the past, I used to do aerial hoop (lyra) and trapeze in the past!
How did you discover your musical talent and passion?
My first experience with music was 'Music Bus' in primary school where I learnt to play keyboard in the back of a truck! From there I progressed to piano lessons and I picked up the guitar a few years later and found a real passion for it.
How can music change the world?
Music is phenomenal - I've seen music change people's lives! Not only is music a great outlet for people to express their creativity and emotions, but musicians are also the first people to put their hands up and help out a great cause. In Australia in particular, we have seen this with benefit concerts around the country to raise money for the victims of the recent floods and bushfires.
Does it sound scary to choose music as a career?
For me, it would be scarier not to choose music! I've dreamed of being a performer ever since I was young and I still pinch myself that I get to live out my childhood dreams.
What song would get you back on your feet when you're down?
'Happy Song' - John Petrucci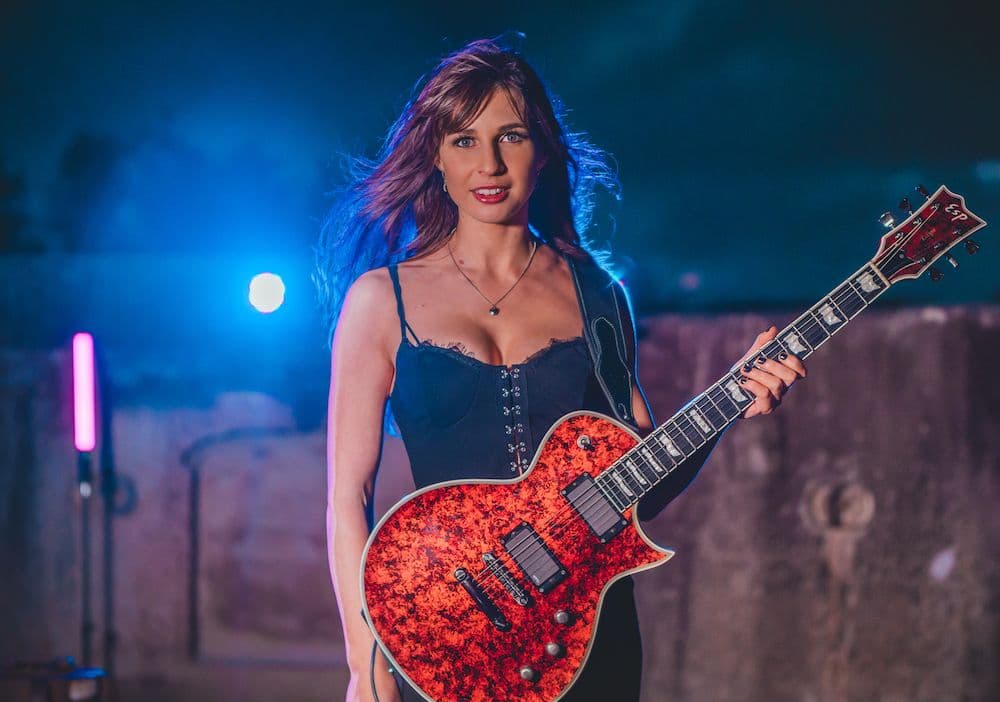 Photo Credit: Jay Seeney - Blacklist