Sound of the country of samba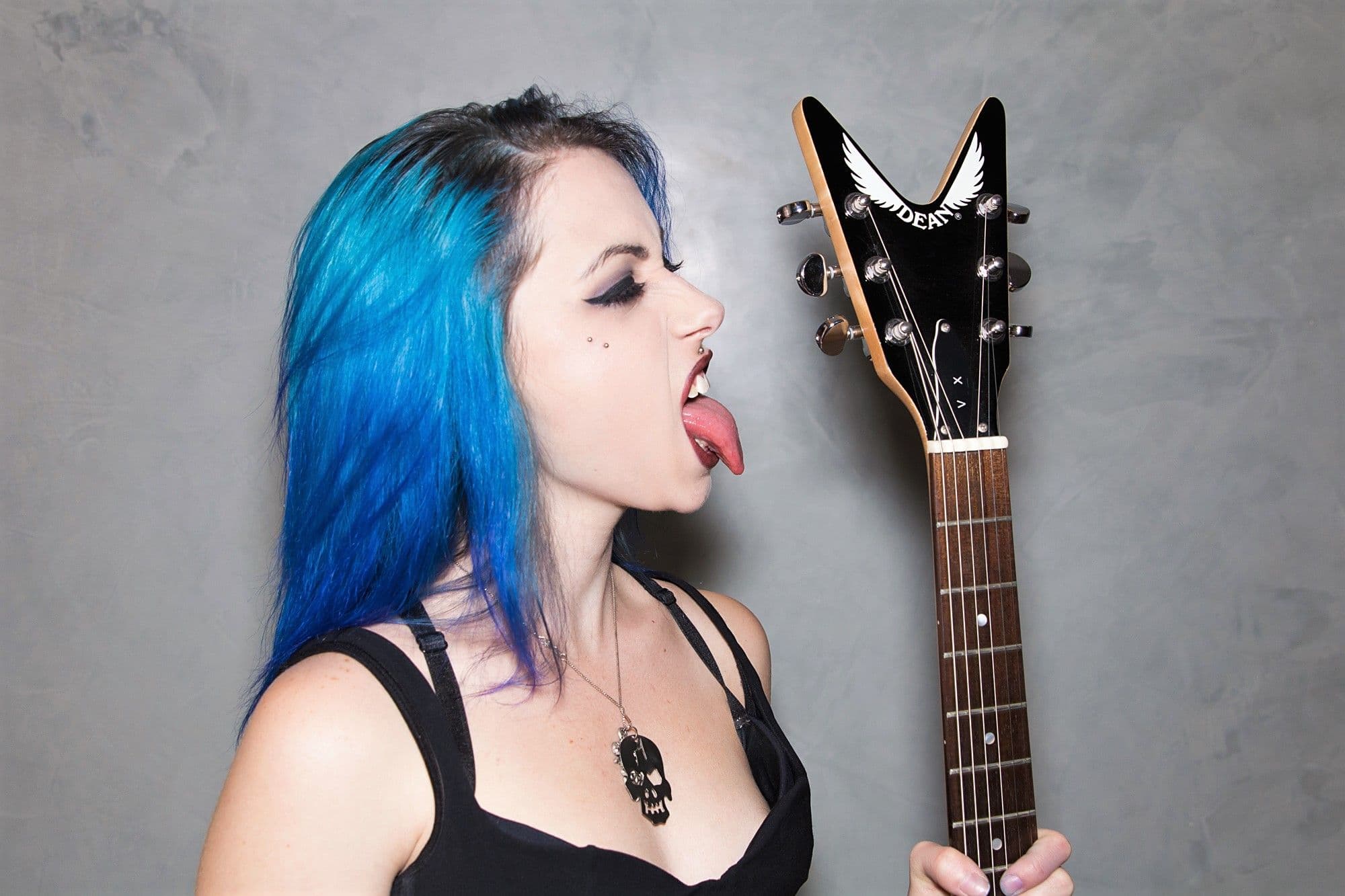 A passionate musician with dreams of being independent, Bruna talks about her active lifestyle, and her ethnicity which push her toward success
---
What does it take to be a successful musician? And what's considered success in music?
In my opinion it takes many things, but first of all, passion, which brings determination. Passion is what makes you start in the first place, and it keeps you on the path you decide to follow in your life. For me, success is a feeling, and you can have that feeling playing in your city with your cover band, or playing around the country with an original band, or even just playing on the internet. No matter where, it feels like you're in the right place doing what you love the most. Some people want to go farther, some people don't.
What are your dreams in your musical career?
I have always dreamed about having an original band. Luckly, last year, I found some great musicians to share this dream with me. We will be recording a video clip soon. The band is called KORTZA and we follow a hard rock vibe, but with some progressive elements and brazilian rhythms. Besides that, I dream of recording a solo album at some point.
Do you have a daily regimen in music learning?
Yes, I do. I'm actually really methodic with that. I study music for 5 to 8 hours a day, including guitar practice (technique, improvising/creating, transcribing songs from artists I like, recording, etc), rhythm training (I also have drum lessons), ear training (with a programme called Ear Master which is amazing) and listening to new artists/bands (yes, I include that as  part of my studies).
What's your typical professional day like?
Usually my days start early during the week. Mostly, I separate my time between music studies, lessons. I teach at School Of Rock Belo Horizonte, and I also give particular lessons. I do rehearsals with my bands and record videos. On weekends, I usually play and sometimes travel to play in other cities nearby. But now with the COVID, things are pretty bad in this area.
How has your music taste changed over the years?
When I was a child, I used to listen to MPB (Musica Popular Brasileira) because of my family. When I was 8, as I was taking piano lessons, I started listening more to classical music. Not a long time later, I was introduced to some rock bands such as Guns n' Roses, Nirvana, Pink Floyd, Alice In Chains, etc., and I thought "oh man, that's what I want to play", so I bought my first guitar when I was 11. I started searching for new bands, and I really found myself in the thrash metal style. Megadeth was my favorite band for a long time. Some other bands I used to listen to: Pantera, Anthrax, Testament, Metallica, etc. That was my "metal" phase. I also had a "metalcore" phase, in which I used to listen to bands such as: Avenged Sevenfold, Escape The Fate, Black Veil Brides, Asking Alexandria, etc. When I was a bit older, about 16, I started playing in some bands and started working as a teacher and as a freelance musician. So I had contact with varied styles of music. I was listening to a lot of different artists and bands, but mostly progressive metal. That was another phase, although that wasn't too extreme/restricted. As a mature musician now, my main influence for my playing is hard rock. Progressive metal is a big influence too, such as thrash metal. Extreme, Megadeth, Pantera, Opeth, Haken, Winger, Slash, Maragold, Freak Kitchen, Nick Johnston, Guthrie Govan and Greg Howe are some of my favorite artists.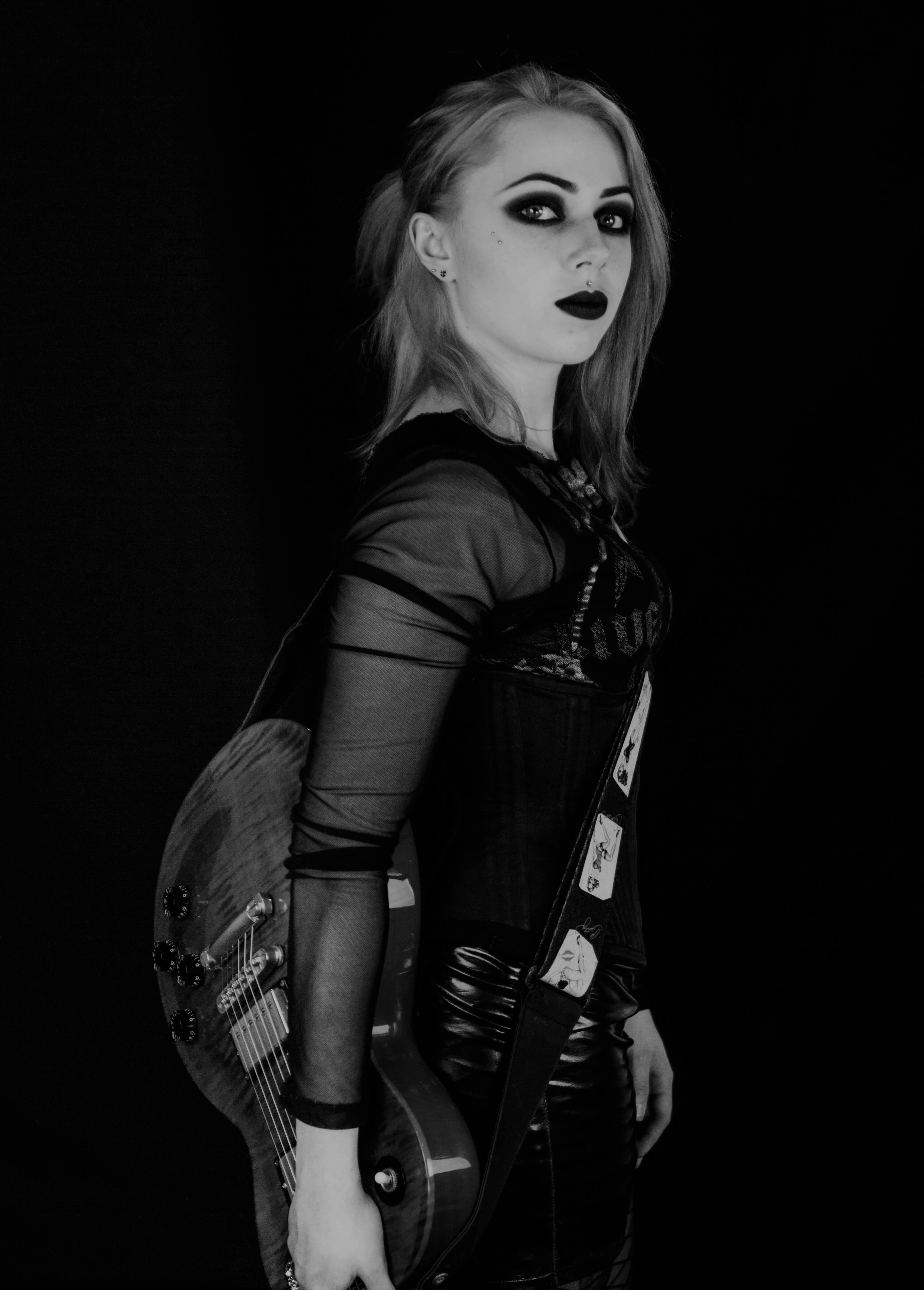 "Passion is what makes you start in the first place, and it keeps you on the path you decide to follow in your life"
How long have you been involved with music?
I'd say since I started learning the piano. That was when I fell in love with music.
Do you play for any bands? Who? Did you join/form them?
Yes, I have played for many local bands (original and cover ones) such as Falanstèr (symphonic metal), Seawalker (thrash metal), Agents Of Havok (prog metal - this one I formed it with the drummer, although I was out before the recording of the album, I composed with them), a Guns n' Roses tribute band, Liking Park cover band, Paramore cover band, and some varied styles cover bands. I also play guitar for the international artist Lenny Jay, who makes an awesome Michael Jackson tribute.
At the moment, though, I'm only with my original progressive hard rock band called Kortza, a classic rock/grunge cover band. I am working on an acoustic hard rock project with my boyfriend, and the amazing group called Jam Das Minas, with over 60 female guitarists from Brazil. If you wanna check out a bit more about this project, please search for "Jam das Minas" on instagram. :)
Tell us about your favorite musicians/bands.
About vocalists, I really enjoy Myles Kennedy. I think his voice is amazing and he has such a control over it. About guitarists, my number one favorite is Nuno Bettencourt. What I like the most about him is his originality in his phrasing. He has an outstanding technique as well. And for what I know, he seems to be an amazing person. He once shared a video of mine on his instagram profile, on Women's Day, 2019, among some other amazing guitarists such as Nili Brosh and Jen Majura from Evanescence. Both of them are guitarists I admire a lot. Of course I can't forget to mention Orianthi and Nita Strauss. They're a big influence on me. About bass players, I'd say my favorite ones are Duff McKagan for his amazing bass lines and tones, and Bryan Beller, mostly because of the band Dethklok from Metalocalypse, that was  when I first heard of him. Later on, I met him personally when he played in my city with The Aristocrats, with Guthrie Govan and Marco Minnemann. The three of them are insane. And also he recorded some albums from Steven Wilson, which I enjoy pretty much. About drummers, I really enjoy Kevin Figueiredo's playing (from Extreme). I'd also say Matt Sorum, for his work with Guns n' Roses and Velvet Revolver.
How do you get inspired to make music?
I'm not sure how to answer this. I don't force it, I simply let it flow when I have inspiration. Sometimes, I get really inspired by watching live videos of bands and artists I like. I guess I also use my feelings from the moment and try to express them with music.
How do you see your audience? What do you want to tell them and what do you expect from them?
My audience is a part of the artist I am. They are constantly helping me to achieve my dreams by motivating me. I'm only grateful for every person who supports my work as a musician. I just expect that they keep enjoying my music.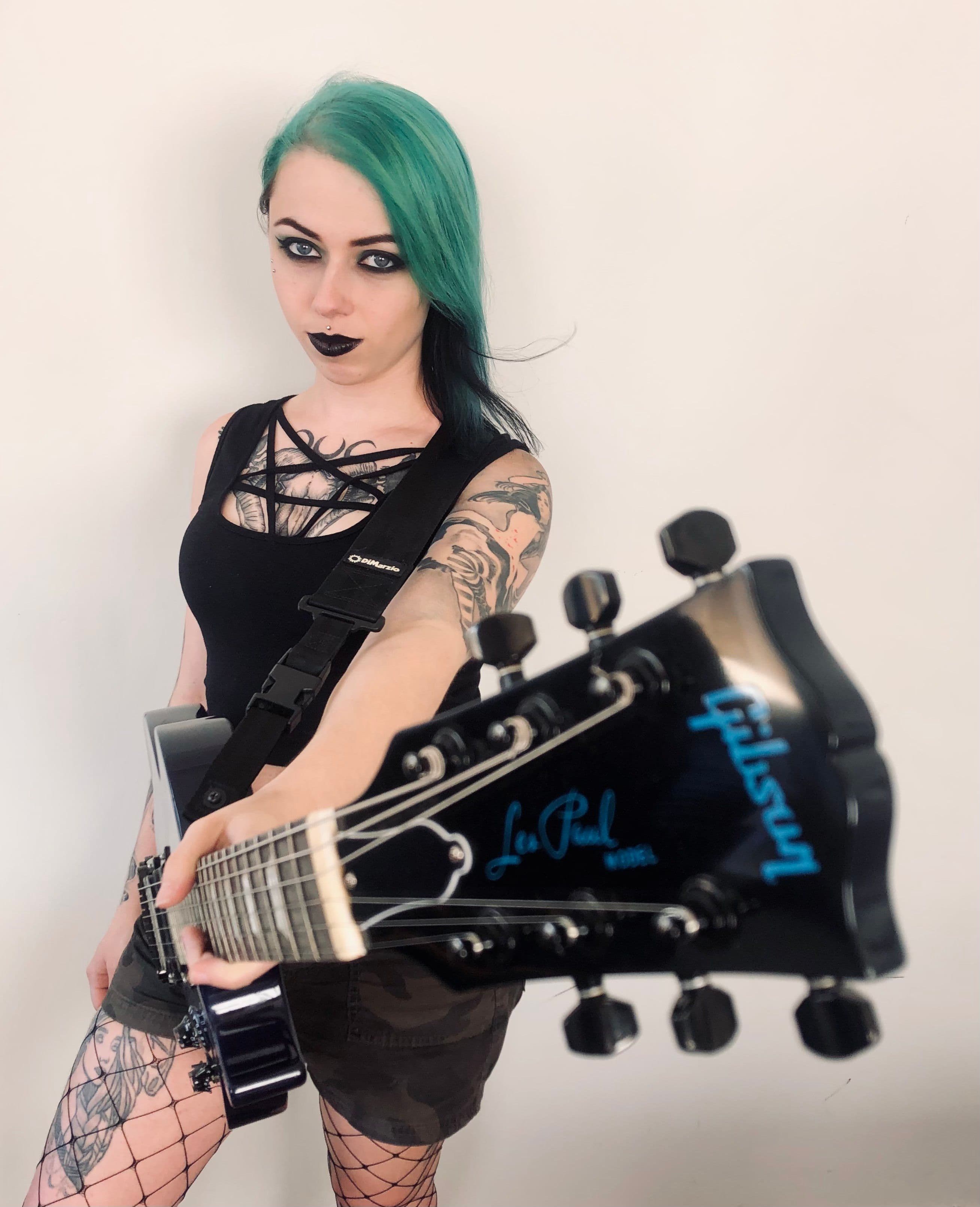 "Art represents and makes us find ourselves"
Where do you think rock n' roll is today and where is it going?
Some people say rock n' roll is dead, especially here in Brazil. But I think that's total bullshit. Of course, music changes; it evolves. But that doesn't mean it's dead. There are so many great new bands from everywhere. Here in Brazil we have some great bands such as Eminence, Elephant Cassino, Electric Gypsy, Malvada, Marla's Mind, etc.
What are some of the challenges as a musician, especially a female musician?
Well, I'd say being a musician includes many things beyond just playing, such as knowing a bit about how the social media work, how to record videos in an acceptable quality, edit it, and create interesting content for your audience. Your audience on the internet counts a lot for your career nowadays. That's how you reach people worldwide.
About being a woman, I should say not only in the music industry but in many areas in life, being a woman is hard. I have a group called Jam das Minas only for female brazilian guitarists. There, we share many things with each other, including (many) stupid opressive comments by males. I guess when you're ahead in your career, this kind of comment doesn't make any difference, and most of the time they are actually so ridiculous that we only laugh and move on. But for girls who are just starting, this kind of comment can be really toxic for them. It is funny that they wouldn't write such things in a video from a guy playing. It's only because it's a girl. I understand that it can be difficult for some guys to see some girls playing better than them (lol). But you know, just try not to be an asshole.
When and where were you born and raised?
I was born and raised in Belo Horizonte/MG - Brazil.
Aside from music, what studies and jobs do you have or have had in the past?
I went to university two times. First I studied languages, but I quit to study music, which was my second course. But since I wasn't very happy with the way the course was going, I also quit. For what I do, I do not need a university degree, although I would be very happy to study in an appropriate music college someday. I'm also a makeup artist, but I do not do it as a job anymore (only for my family, sometimes). When I was studying languages, I worked in the area for a few months
What are some of your hobbies (obviously apart from music)?
I don't have many hobbies. When I was younger, I loved to go to the countryside and ride a horse. But sadly I don't have time for it anymore. So, as hobbies I like to sing, play drums (sorry, music related) and I intend to apply for some pole dance lessons soon.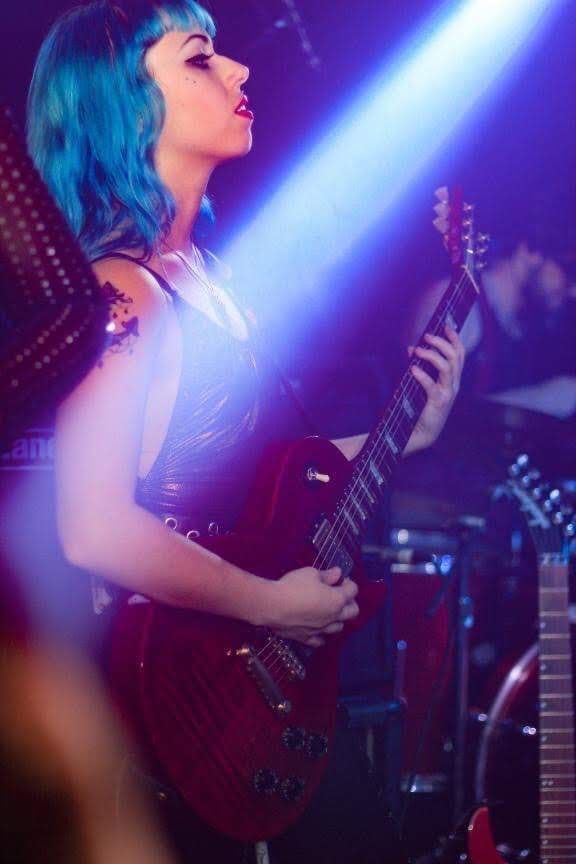 How did you discover your musical talent and passion?
When I was 8 by taking some piano lessons.
How can music change the world?
Music is something magical. Even instrumental songs can make you feel lots of different emotions. Music touches souls and gives a message. It always makes us feel something. Music and art in general not only CAN but they really DO change the world. And more than that, they REPRESENT the world, things of the world, our feelings about it, our message to anyone who listens; and it approaches people who find themselves on those feelings as well. Art represents and makes us find ourselves.
Does it sound scary to choose music as a career?
Yes it does, because it's not a "solid" thing, like for example being a doctor. It really isn't a stable job. But in my case, I couldn't choose anything else. I tried, and it just did not work for me, it didn't make me happy.
Is there a favorite music documentary that you would like to recommend?
I once watched a Foo Fighters documentary and it was amazing. I do recommend it. I guess it is called Back and Forth.
What bands or solo musicians have you been listening to this year?
Nick Johnston, Maragold, Greg Howe, Opeth, Haken, Winger, Extreme, Alter Bridge, Slash, Megadeth, Angra, Kiko Loureiro.