An adventure with drums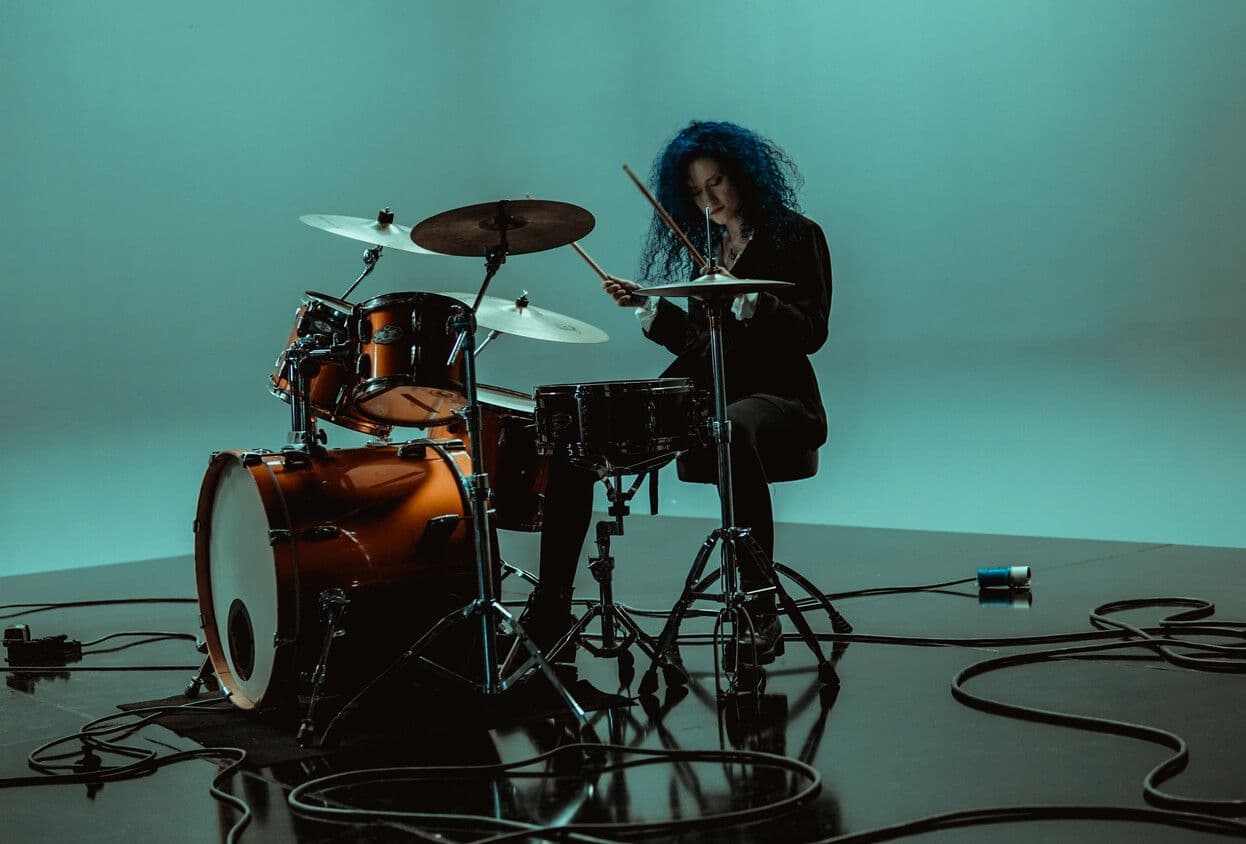 Getting inspired by the freedom gifted by music and listening to the inner voice, Leyan is mixing eastern and western music. Future is looking forward to something magnificent.
---
What does it take to be a successful musician? And what's considered success in music?
If a person can reflect on her feelings, tell herself and thoughts to the audience by composing her own music, she will reach success. But we are living at times of social media and success means 'numbers'. This is so sad. If a music is listened to million times or a musician gets 100 k followers, this is considered success, but I do not agree with this.
What are your dreams in your musical career?
My biggest dream is to make my own albums and to discover the whole world with my drums! Maybe touring with my bands or just myself as an independent musician! Who knows!
Do you have a daily regimen in music learning?
%80 of my daily practise is listening to lots of different music styles. It looks so simple but listening is the biggest lesson. And the other part is practising rudiments with metronome and putting them into songs and spreading these rudiments into drums.
What's your typical professional day like?
I go to my music studio every day. First, I make practice to create new content for my channels and then my students come for lessons. After that, I pick up my cymbals & gears to prepare the gig for that night! I really miss this tempo!
How has your music taste changed over the years?
It's so interesting that there hasn't been a big change over these years. Maybe I have become more open- minded to different genres, but I still love to listen to the songs of my childhood and my teenage years! For instance, I have always loved Latin music and symphonic metal so much.
"Sadly, I face lots of obstacles, prejudices and gender inequality every day in music communities in my country too."
How long have you been involved with music? 
I can say that my musical career began 4 years ago when I opened my studio. Before that, I took some drum lessons. From my early childhood years, I have been playing the piano and I studied it at high school. So music was always with me throughout my life!
Do you play for any bands? Who? Did you join/form them?
Yes, I have played with lots of bands in various genres! I see myself as an independent musician who does not depend on a specific band. That's why I have gained so much experience with different bands. I usually play rock/metal style but I also love to play pop, blues, or in classical music orchestra too! I love the feeling of freedom in music. It inspires me!
Have you composed any songs/albums?
Yes, the first song of mine was 'Femme Fatale' from my band, Venus. I both wrote the lyrics, drums and contributed to its arrangement. Then my symphonic metal band's (Scarlet Sky) EP was 'Dying Light'. Nowadays I'm working with my band named Karakutu for our maxi single that combines Turkish classical music & rock sound!
Tell us about your favorite musicians/bands.
I like Toto, Bjork, Evanescence, Lindsey Stirling, In this Moment, Jinjer, Alter Bridge, Pink, Ozlem Tekin.
How do you get inspired to make music?
Music and inspiration come within me. I just make it to relax my soul, that's all. I began to follow my inner voice four years ago, and then this happened. Here I am!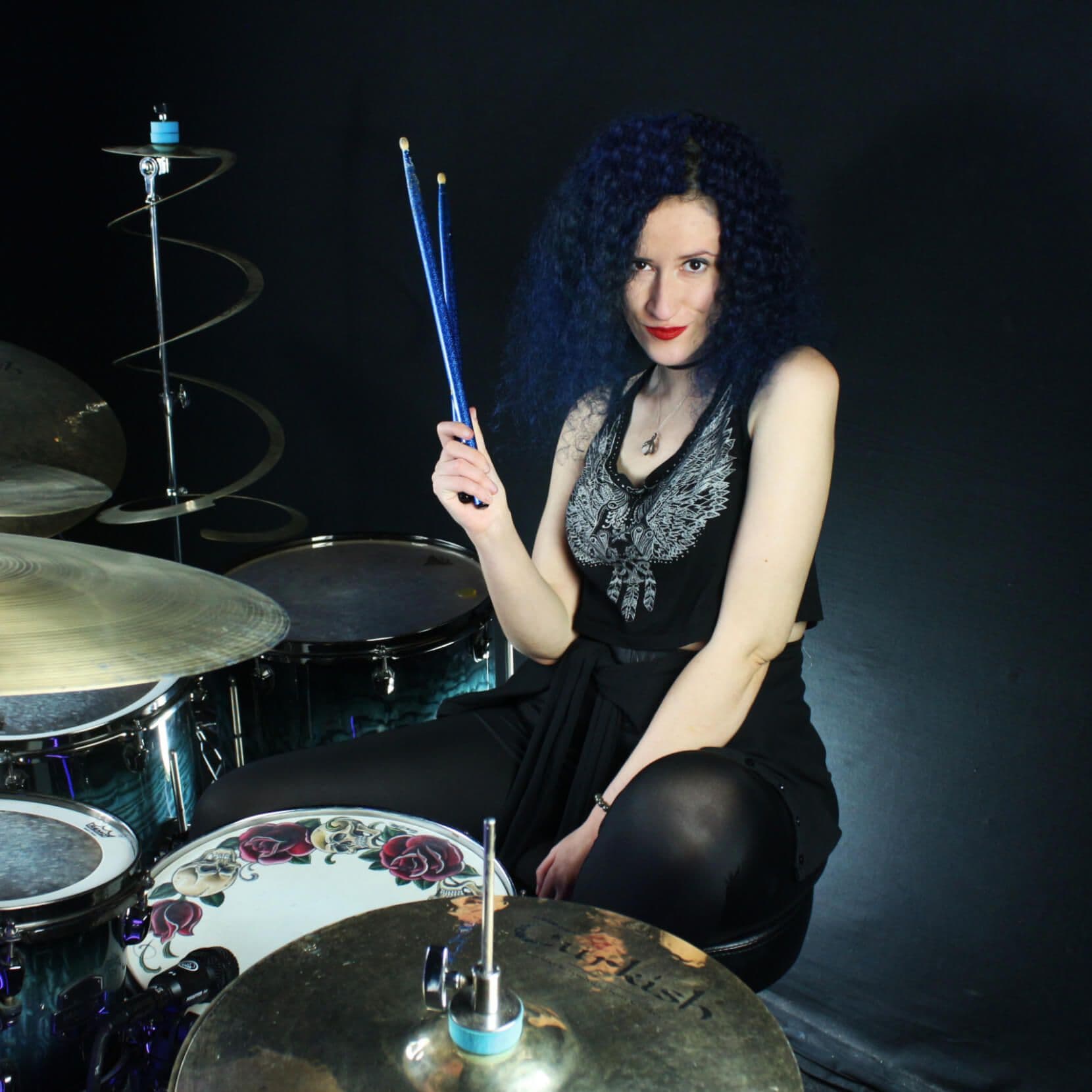 "Music can change emotions, and some collective emotions can change the world."
How do you see your audience? What do you want to tell them and what do you expect from them?
They have so significant a place in my musical journey. We complete each other. My aim is to reflect my feelings to them by using drums! I am fed from their feedback!
Where do you think rock n' roll is today and where is it going?
The real rock n' roll's soul stayed in the past in the 80s and 90s. But this genre has improved itself and hybrid and progressive styles have been created. It still exists but not powerful like old times. Popular music and R&B are one step ahead.
What are some of the challenges as a musician, especially a female musician?
Being a good musician and improving myself is a hard and long journey. In addition, the world is patriarchal, and Turkey is more! Sadly, I face lots of obstacles, prejudices and gender inequality every day in music communities in my country too.
When and where were you born and raised?
I was born in Belgium in 1993, but I have lived in Turkey since childhood.
"But I said to myself that I should escape from my comfort zone and free myself."
Aside from music, what studies and jobs do you have or have had in the past?
I have graduated from English Literature at university, but I have never followed it as a job. My only job has always been music, both teaching and performing.
What are some of your hobbies?
I'm a bone collector. Every summer I go into the nature, make camps there to collect different pieces. I'm also an art lover. I make art collages, write short stories for a magazine. I am fed by art and the nature.
How did you discover your musical talent and passion?
I think my mom discovered when I was a child. Although she's a psychiatrist and a science person, she has always pushed me into arts and music. Music can change emotions, and some collective emotions can change the world. Arts & music are the most powerful weapons of a culture. If used correctly, it changes the point of views.
Does it sound scary to choose music as a career?
Of course! Especially in Turkey. It's really difficult to make a living from it. But I said to myself that I should escape from my comfort zone and free myself.
Is there a favorite music documentary that you would like to recommend?
I recommend Amy, Cobain and Lemmy's documentaries. I also want to point out Whiplash although it is not a documentary, it's a beautiful and rare movie about drums.